Rohingya
Water Crisis
Water challenges in the Rohingya refugee camps
Almost a million Rohingya refugees live in south-eastern Bangladesh. Most of them fled from Myanmar to Bangladesh after August 2017.
The Rohingya Water Crisis documentary photo competition focussed on the difficulties faced by the refugee population in terms of water resources. The refuge population are at risk of significant health problems due to the overcrowded living conditions, poor sanitation and lack of access to water. Refugees themselves have constantly flagged up problems around water - in particular, the fetching of sufficient water, safety and security during water collection, contaminated water, and the scarcity and limited availability of water.
Shalbagaan 2018 by Abul Kalam
Water hole, Shalbagaan, 2018 by Abul Kalam
Water is supplied for two hours and not everyone is able to get water.
I need 10-15 containers. I get maybe about 3 containers.
Securing adequate water sources for the entire refugee population has been difficult. Water is scarce in most locations.
Long queues and the unpredictable hours of water availability have been a focal point of complaints by refugees. Women and children have been at risk and exposed to assault. The shortage of water results in unhygienic conditions and is responsible for various waterborne diseases.
"Responsibility for fetching drinking water falls disproportionately on women and girls.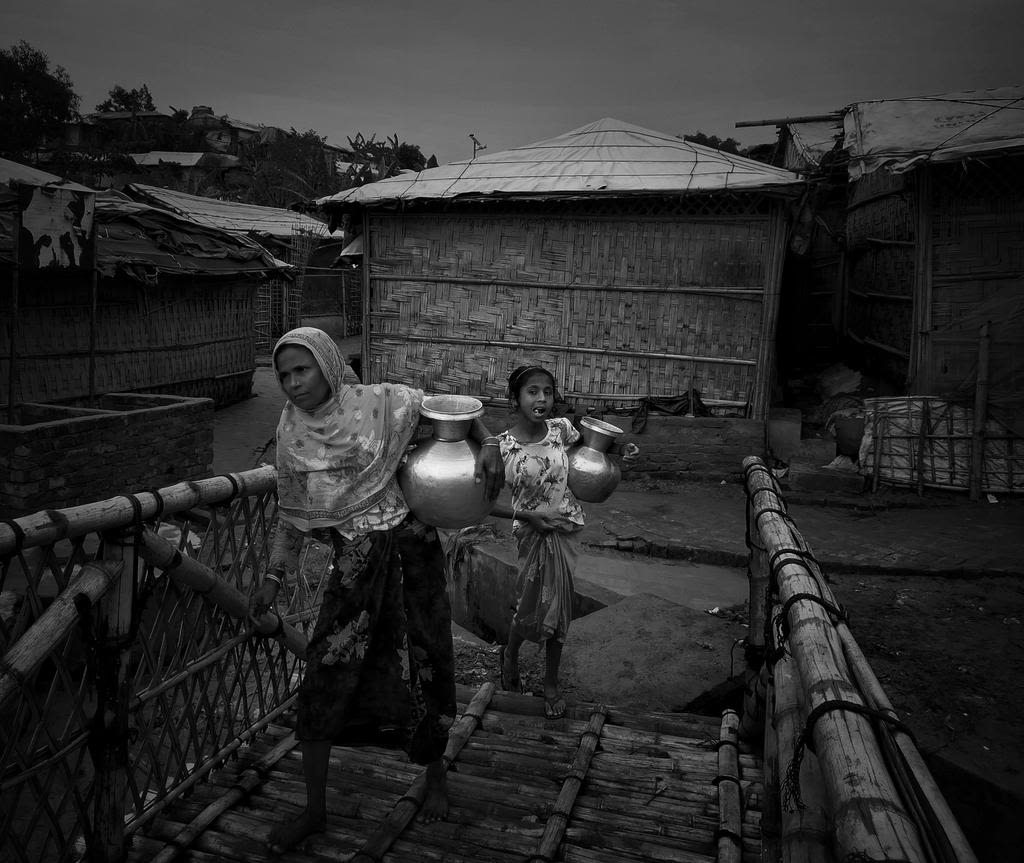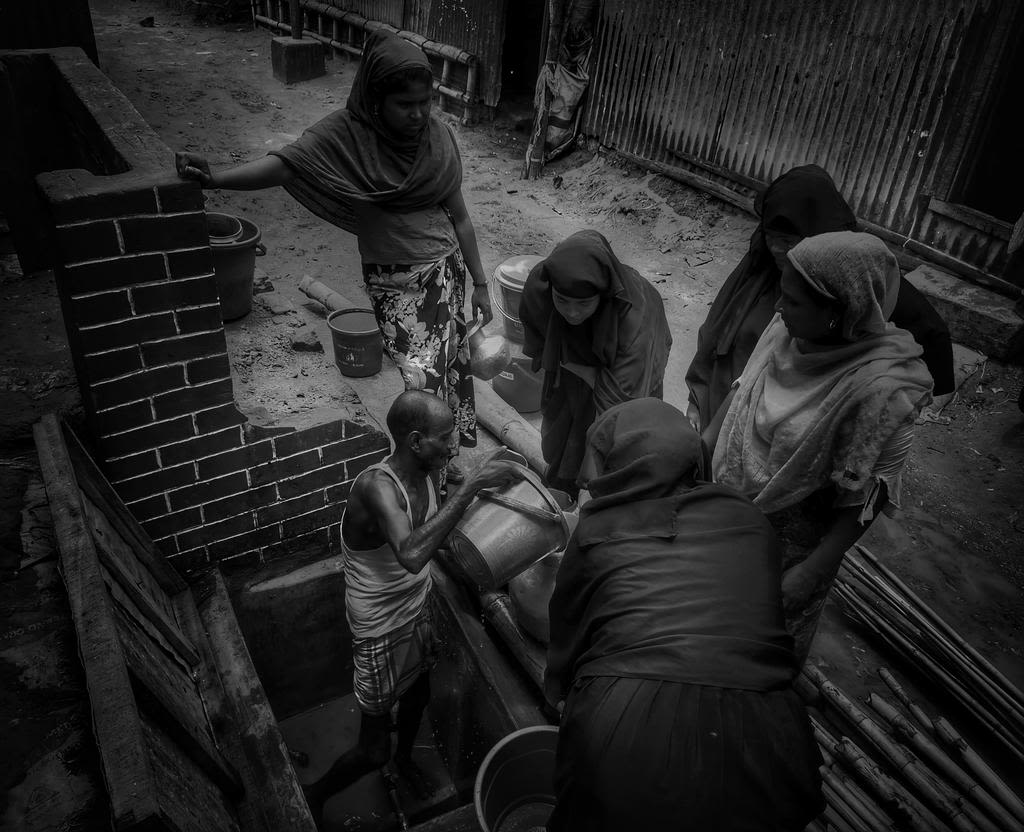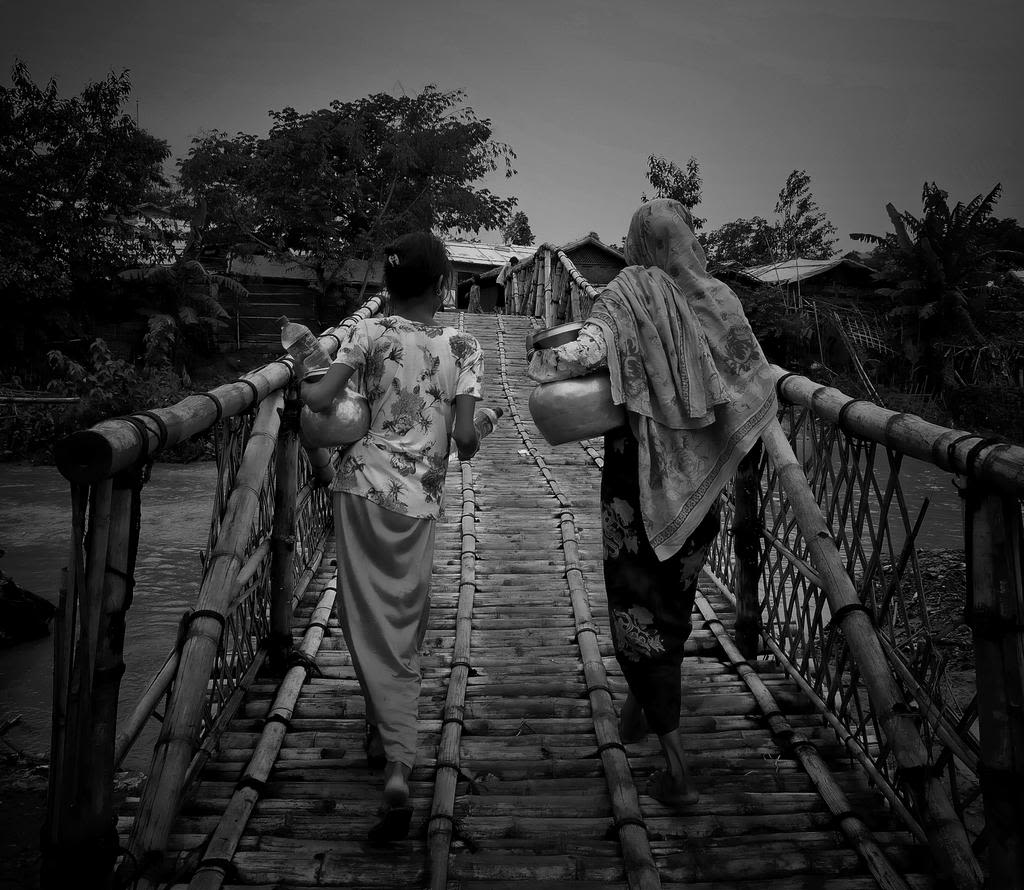 Many tube wells were installed when the refugees entered Bangladesh in massive numbers in 2017. This was done without much coordination or planning. Tube wells were sometimes sited too close to latrines. This meant they could become contaminated. Tube wells (initially shallow tube wells and later deep tube wells) had a variety of problems including arsenic and pathogen contamination and exacerbating water scarcity.
Acute Watery Diarrhoea is widely reported in the Rohingya camps, and children under 5 are particularly affected.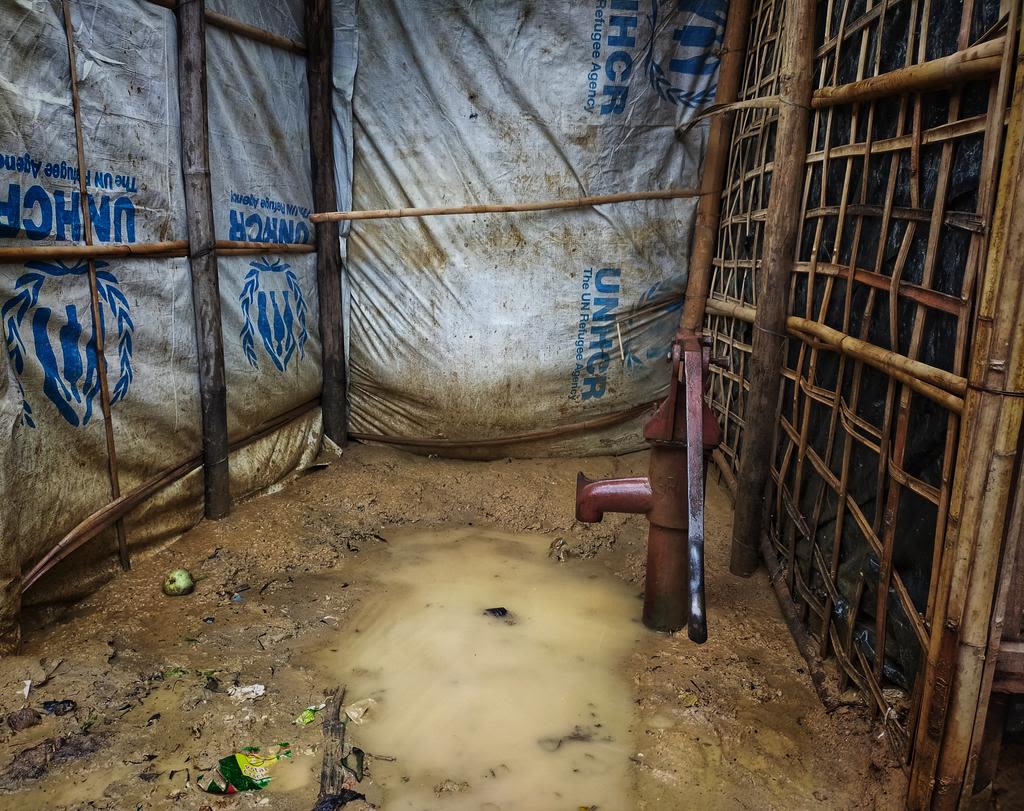 Interviews
Rohingya woman describes difficulties around water.
There is only a 2-hour window of availability. One tap is shared between 150 families. Not all families are able to draw water on any particular day. Families have to go to other blocks for water. There is insufficient water for bathing, cleaning & cooking.
Refugee explains water situation
Woman explains that her family is not able to draw sufficient water for household requirements. Some families miss out altogether. During heavy rain, no water is supplied, and they have to make do with rain water.
Very young children are involved in collecting water. This adversely affects their attendance at the informal schooling provided in the Rohingya camps
Views from Rohingya advocates & spokespersons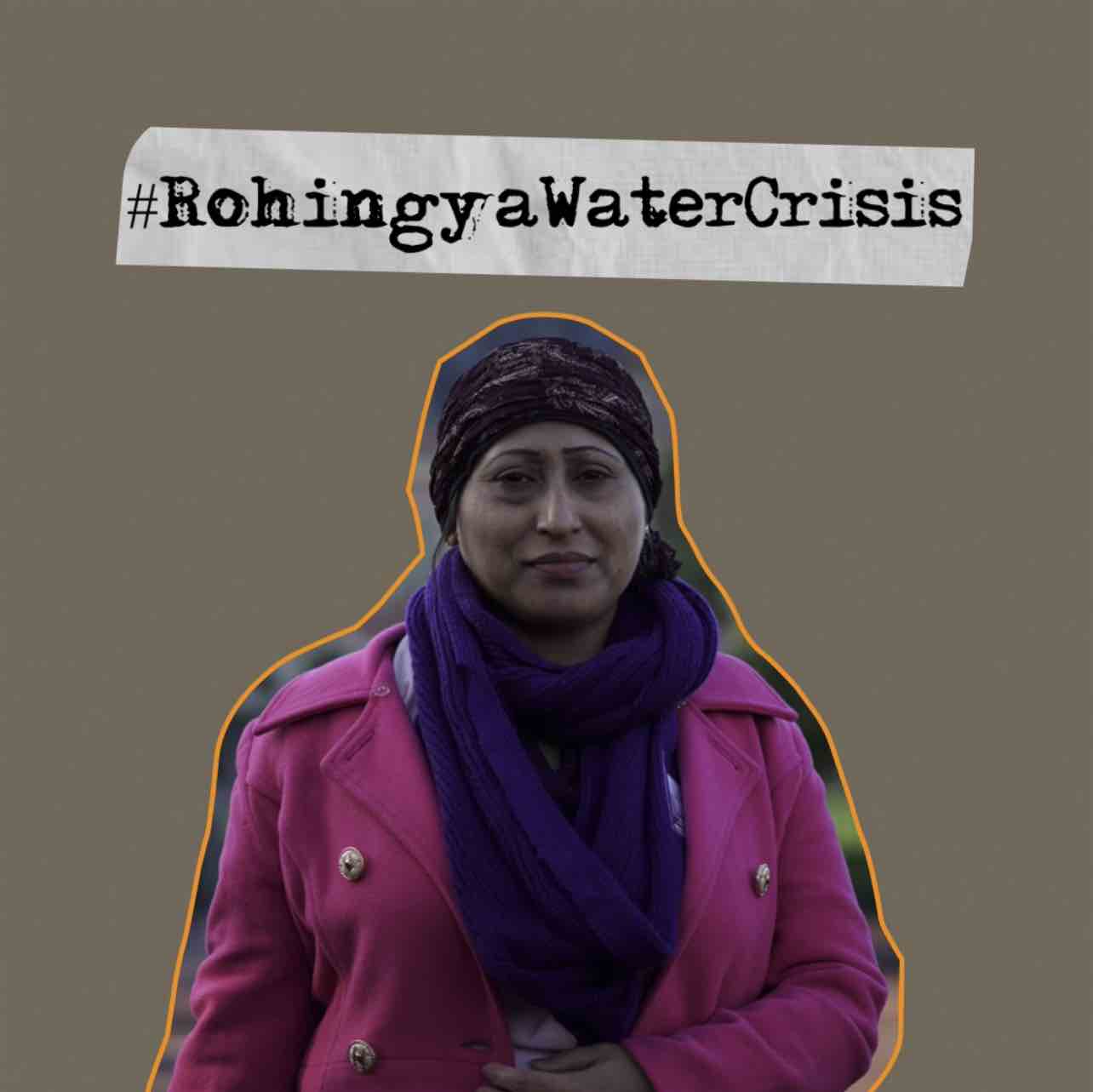 Advocate Razia Sultana
The unacceptably long queues & unpredictable hours of availability of water created safety hazards for women & children and exposed them to assault. Thanks to the photographers who took part in documenting the water crisis.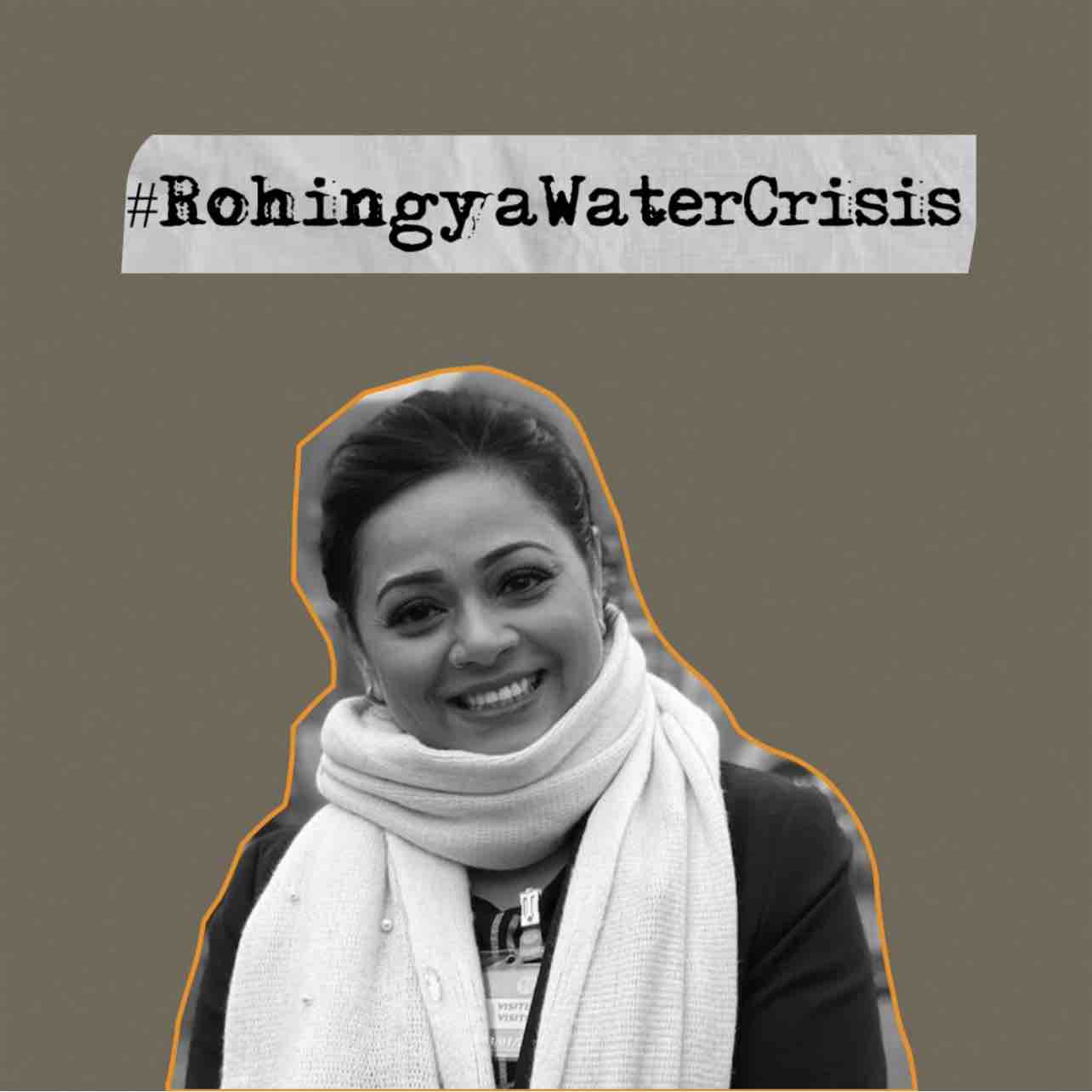 Dr Ambia Perveen
The shortage of water results in unhygienic conditions. This is then responsible for various waterborne diseases& especially Acute Watery Diarrhoea. This can be disastrous for malnourished children. Well done to the winners for their work.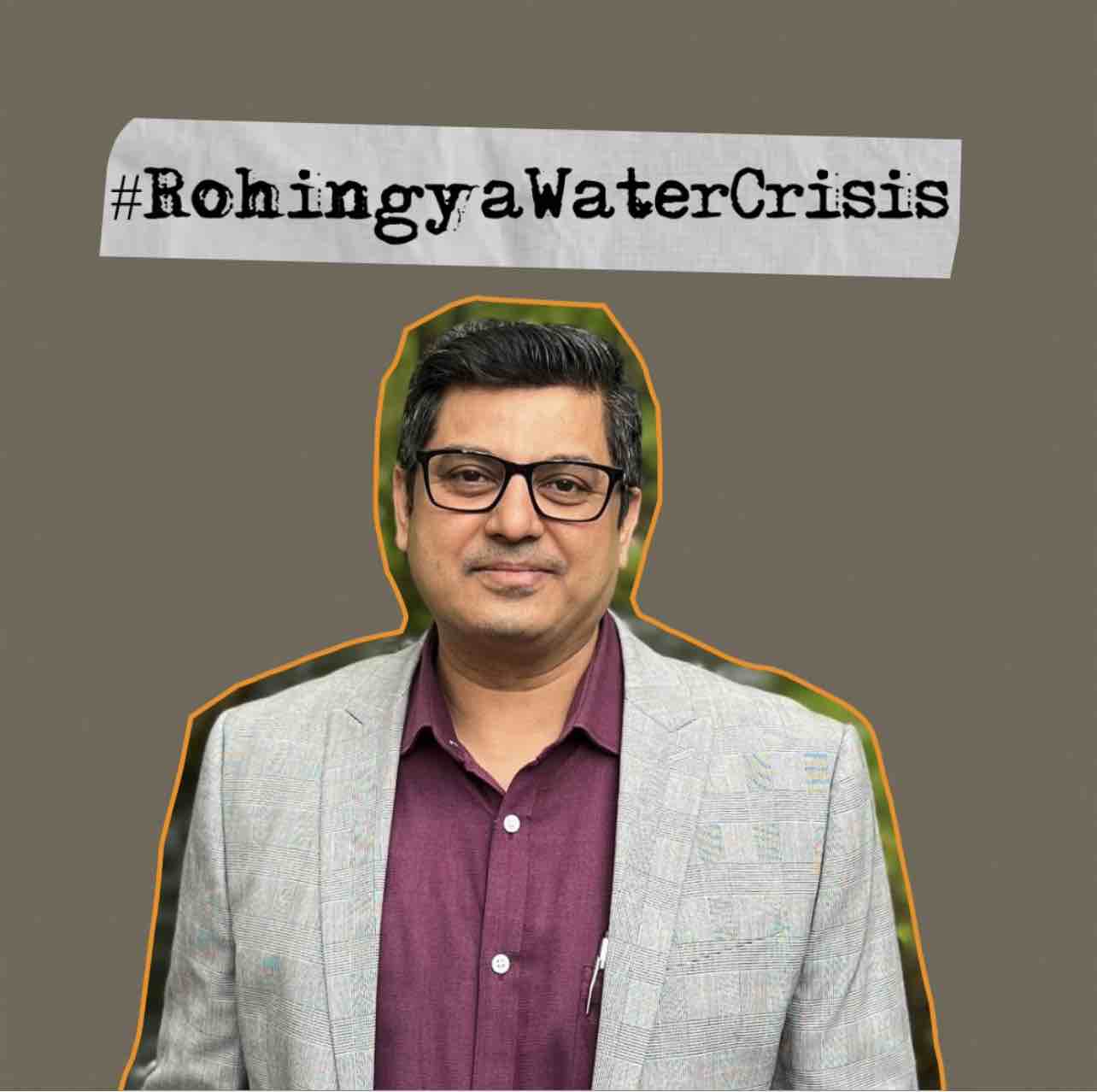 Nay San Lwin
Rohingya refugees have suffered in so many different ways because of the problems around clean, safe and accessible water. Congratulations to the photographers who have documented this and well done to the prize winners.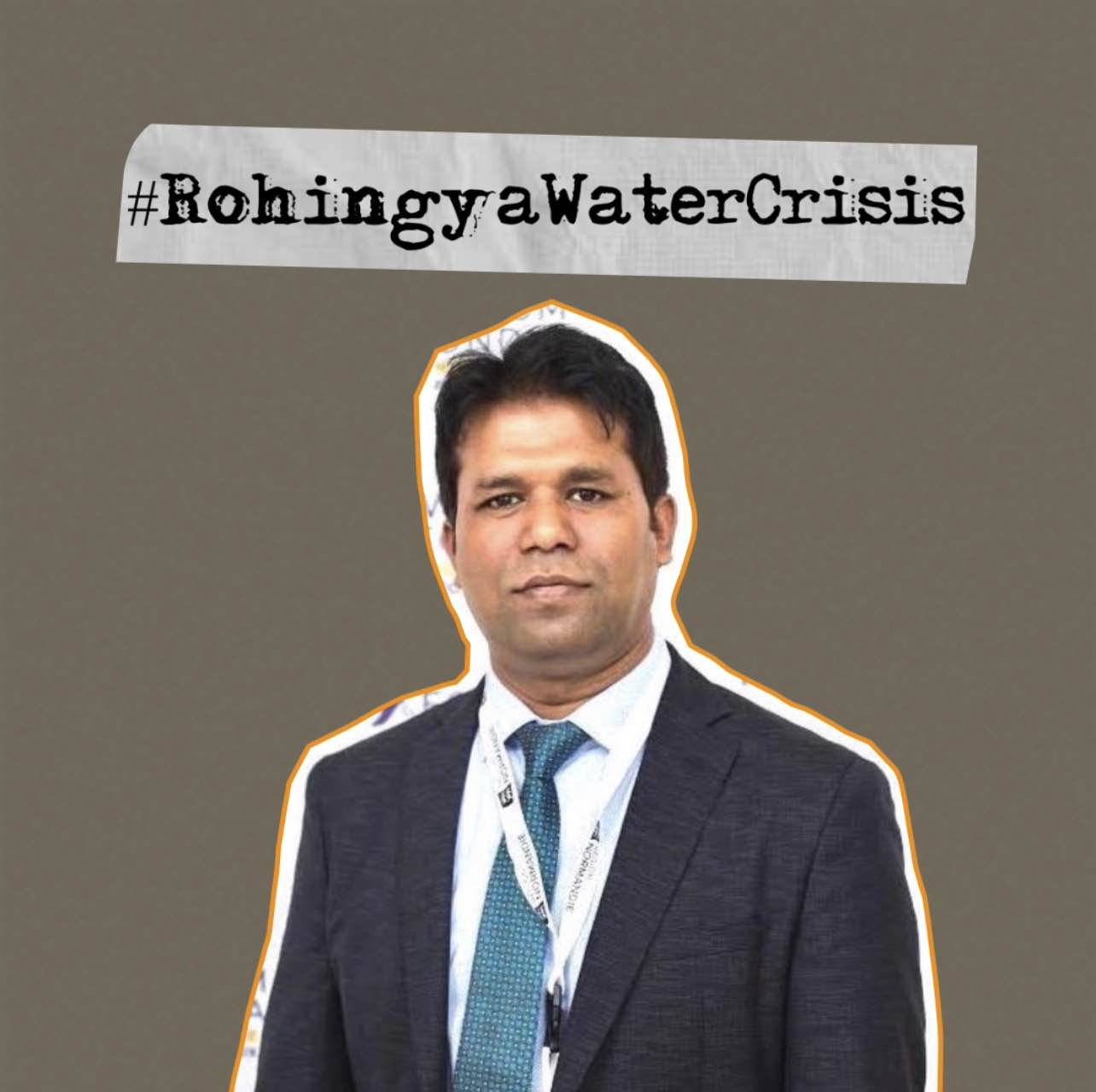 Tun Khin
This is a daily problem for the refugees. It affects some camps particularly badly. And there are health and safety implications for everyone. The authorities need to reduce the prevalence of disease caused by unsafe water and reduce water collection times. Congratulations to the winners of the Rohingya Water Crisis competition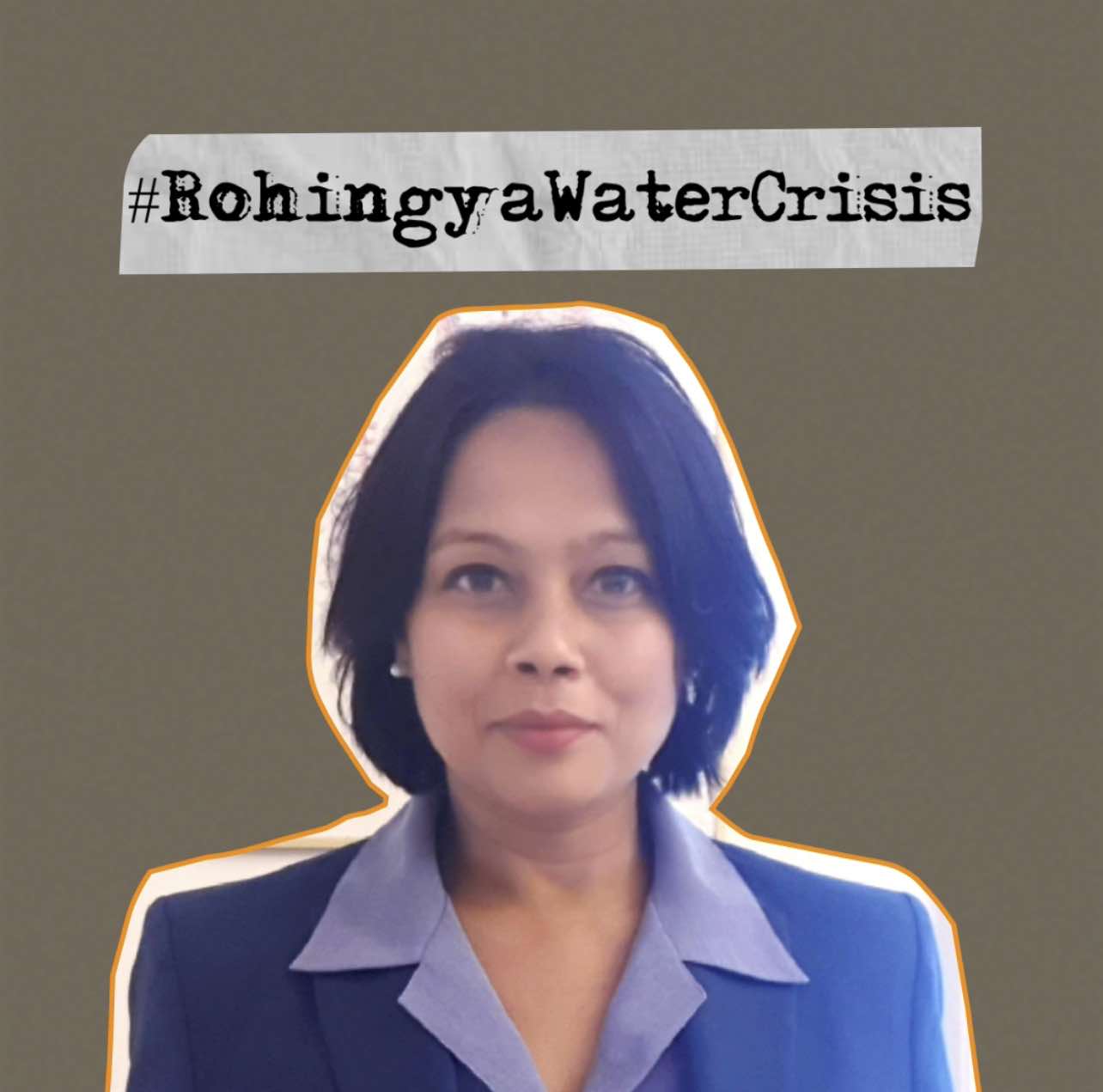 Dr Anita Schug
Water in the Rohingya camps remains a huge challenge for tens of thousands. Despite some progress, refugees continue to live in precarious conditions. Water collection, contamination & availability remain pressing problems. Thanks photographers for documenting this.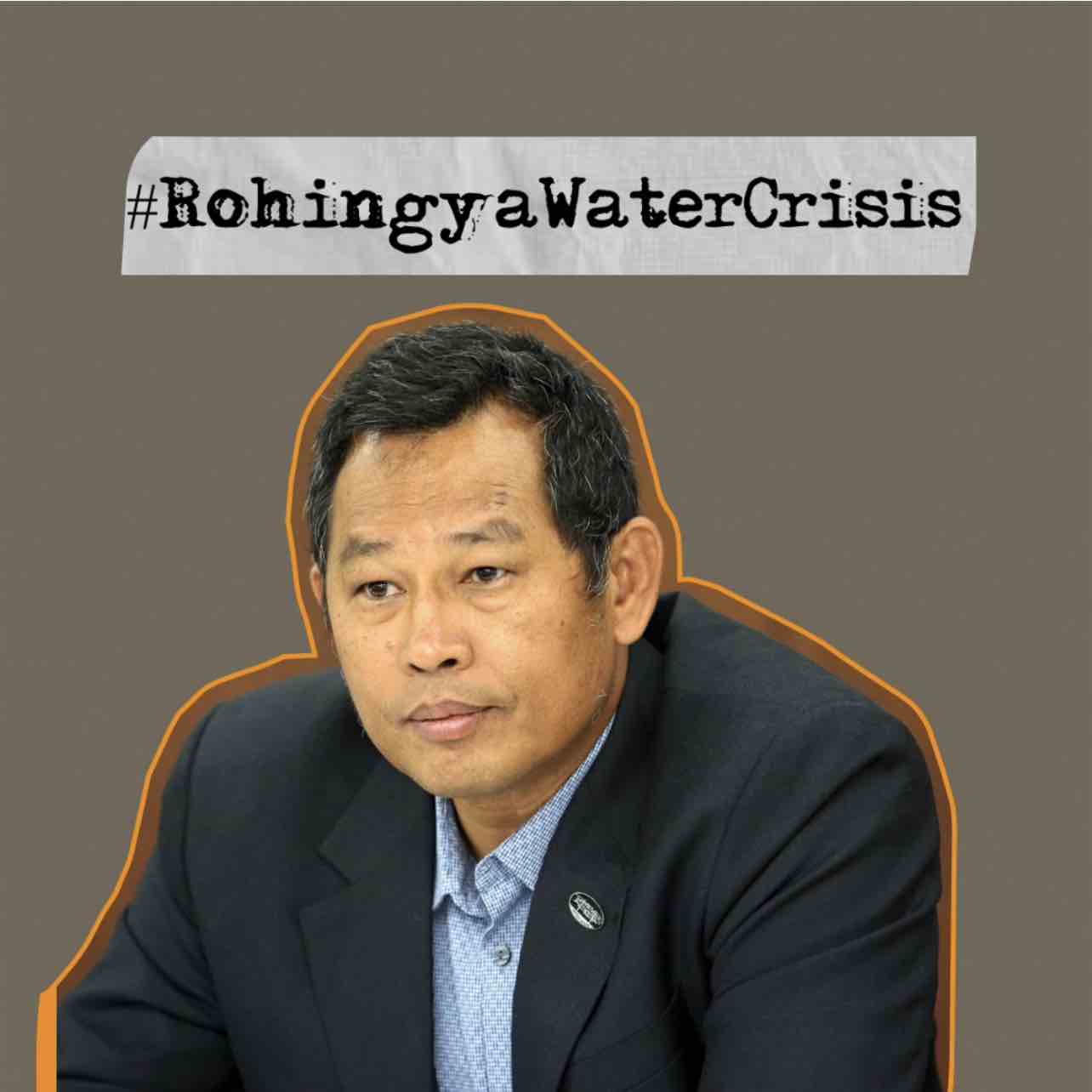 Dr Maung Zarni
Thanks to the photographers for documenting the daily struggles of Rohingya refugees around the issue of water. After so many years, the refugees should not still be exposed to such significant public health risks.
"Public health risks continue
to be unacceptable"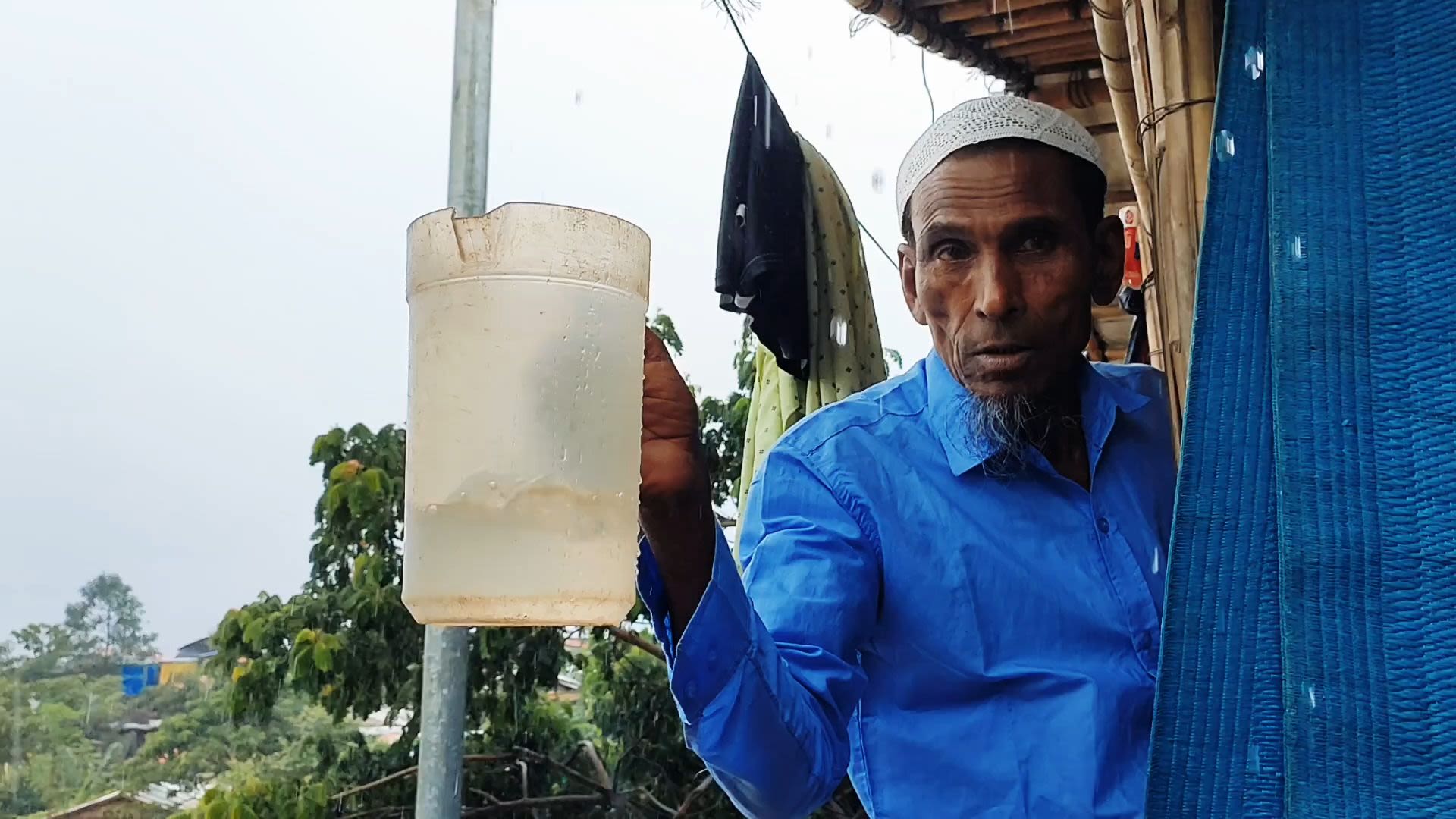 Rohingya Photography Competition - Prize Winners of the "Rohingya Water Crisis" contest. Comments by Parminder Bahra, the competition judge.
Abul Kalam - First Prize.
Judge's comment: "Abul Kalam's image of the woman in Shalbagaan is superb. The woman's pose is one of longing for the water with her water container in hand. The water is murky and foreboding, but the striking colour of her shawl shows resilience and self-pride despite the overwhelming odds. Overall, the pictures showed great composition and talked to the brief. He has covered a wide variety of contexts and over several years. A number of the images demand your attention and deserved to be studied for a long period of time."
Yasor Arfat - Second Prize.
Judge's comment: "I loved how Yasor's images drew out a narrative for me. The night-time shot brings in context and an element of danger. The woman is being served by the man, and even though the image is slightly out of focus, from a photojournalistic perspective it says a lot about the situation in the Rohingya camps. Overall, the selection shows the challenges around water and particularly those faced by women and children. The pictures tell a story."
Mainul Islam - Third Prize
Judge's comment: Some striking shots from this photographer. The pictures highlight the role of women and children in terms of water collection. Overall the images presented the challenges of water scarcity and in particular the role of women and children.
Parminder Bahra - The Judge
Parminder was formerly Executive Producer for The Wall Street Journal in Europe, the Middle East and Africa. He has also worked as a writer and editor at The Times and the Financial Times. He is Global Head of Content of MSC, an NGO that supports ocean sustainability and wants to end overfishing. He is a keen amateur photographer.
This page also contains images from other contestants including Haider Ali, Zahangir Alam, Mohammed Hossain, Ro Arfat Khan & Mohammed Zonaid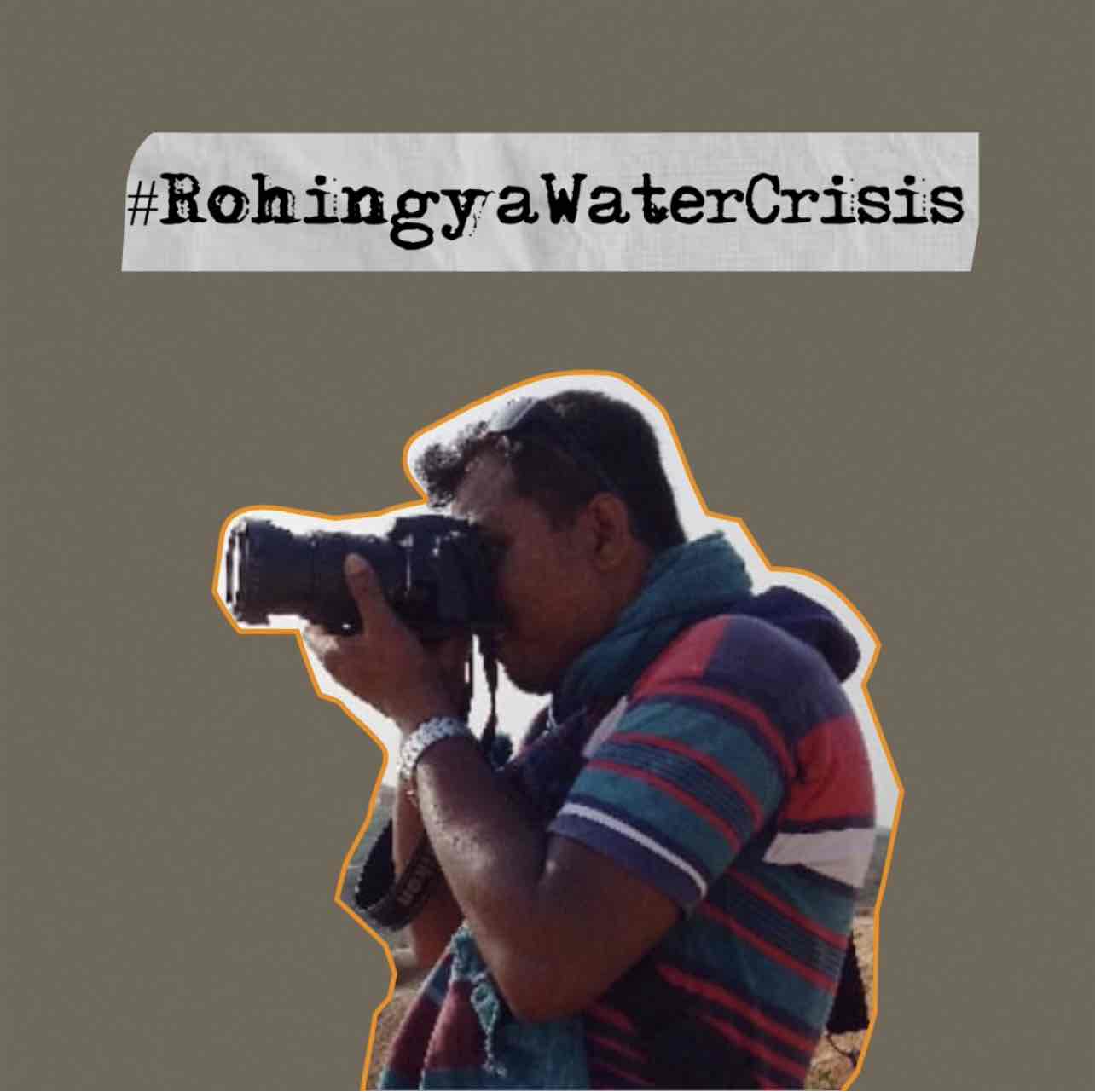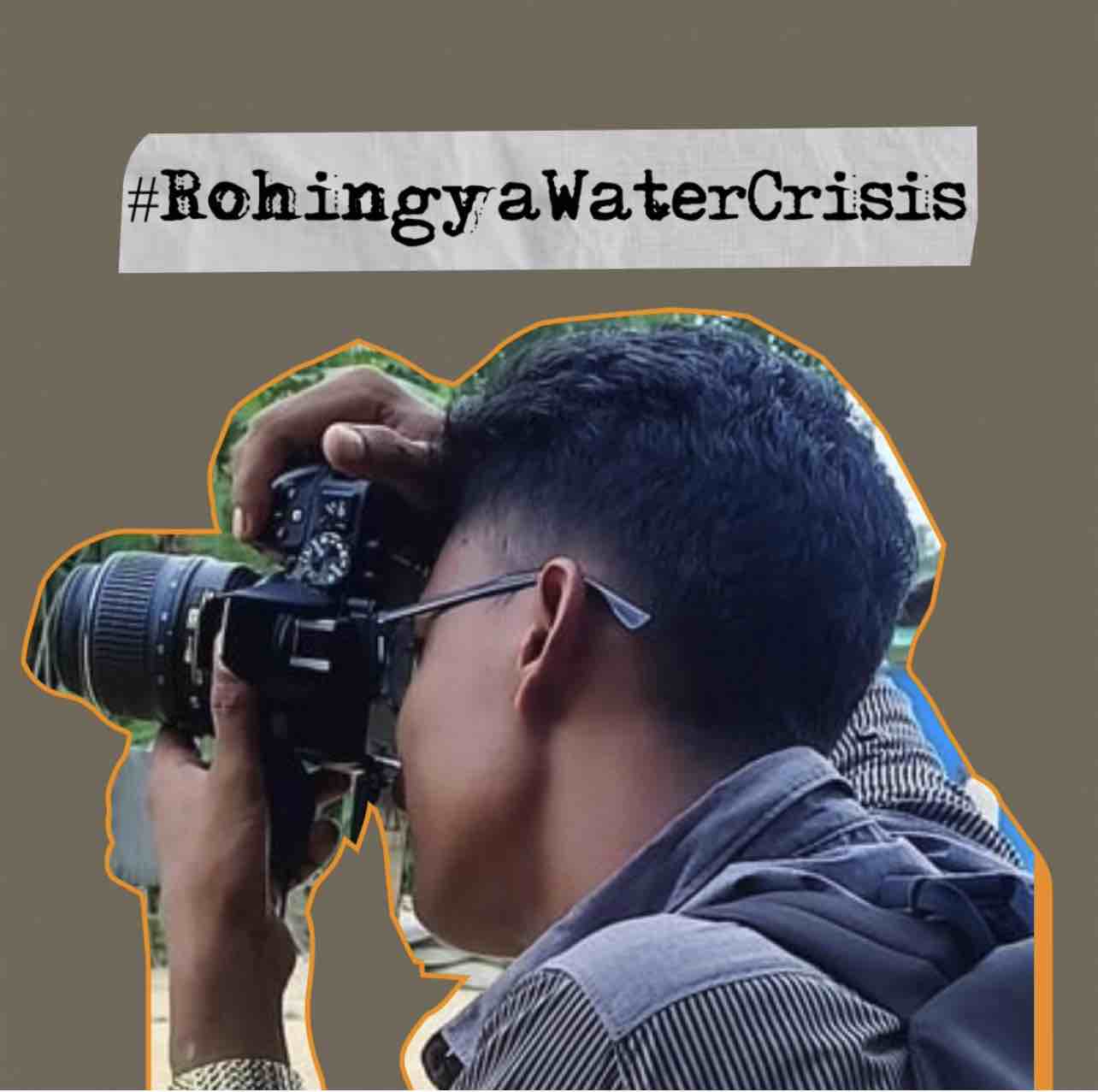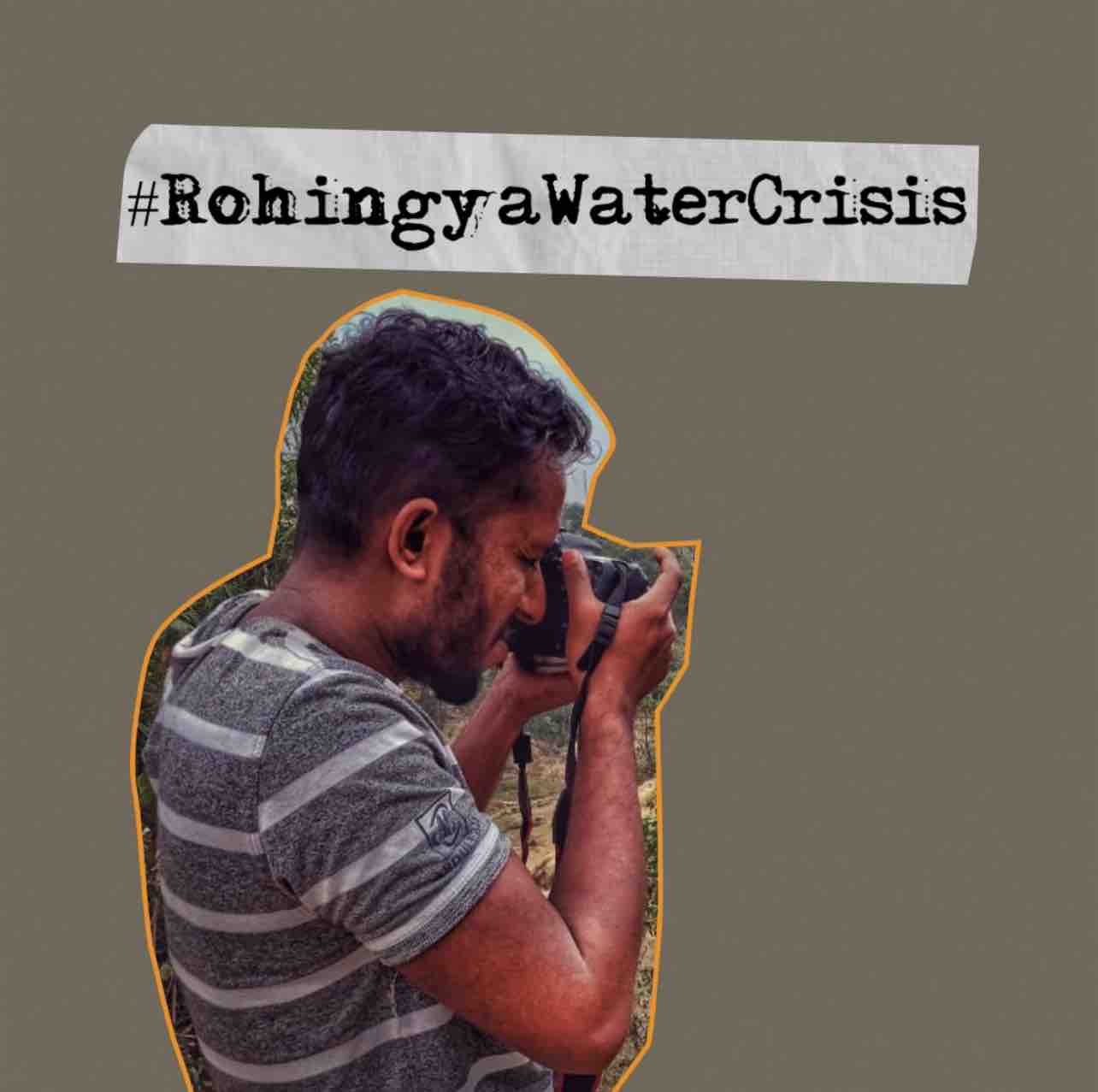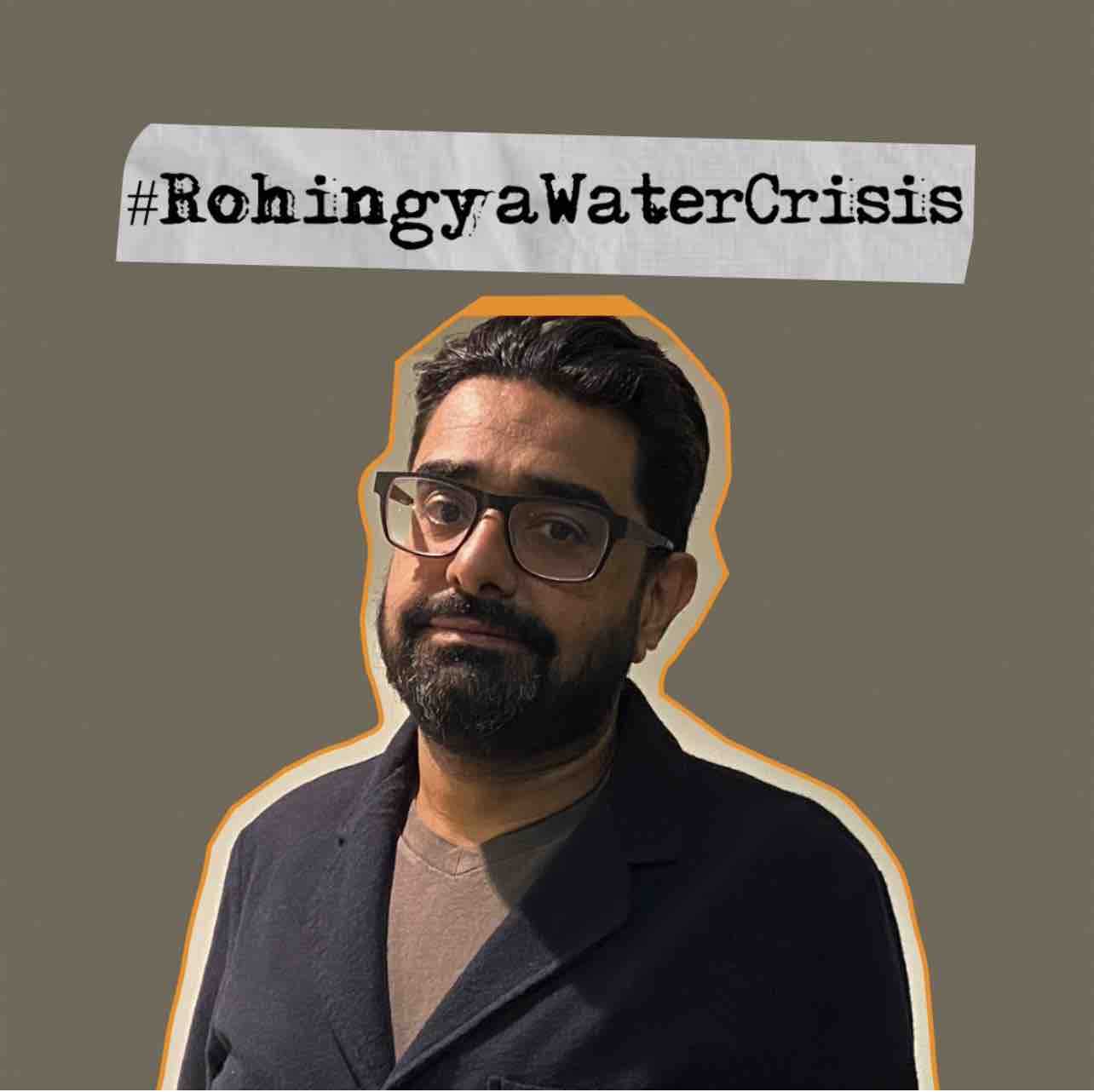 All rights reserved by Rohingya Photography Competition. This project is self-funded by the organiser - Shafiur Rahman.